Spend £50.00 and get free delivery
£5.95 DELIVERY CHARGE
FREE DELIVERY FOR ORDERS ABOVE £50
Italian wine and food Online | Award winning wine merchant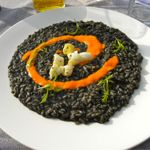 Ingredients:
2 lbs. Cuttlefish
10 oz long-grain rice
1 qt. fish broth
1 onion
1 clove garlic
1 spring parsley
1/2 cup white wine
olive oil
tomato sauce
salt
pepper

Wine pairing suggestions
Preparation
Remove the ink sacs from the cuttlefish and set them aside. Slice the cuttlefish into short, thin strips. Finely chop one onion and cook it with one clove of garlic in a saucepan with 8 tbs. olive oil.
When the garlic is brown, remove it from the pan and add finely chopped parsley and the cuttlefish. Fry the cuttlefish slowly, then drizzle with a little white wine and its black ink. Halfway though cooking add the rice, stir and pour in the tomato sauce. Add in a ladleful of hot broth every now and then, until rice has cooked completely. Taste before taking off the fire and add salt and pepper to taste. Serve immediately.

Add a comment
Be the first to review this product and you will receive a £10 voucher