Spend £50.00 and get free delivery
£5.95 DELIVERY CHARGE
FREE DELIVERY FOR ORDERS ABOVE £50
Italian wine and food Online | Award winning wine merchant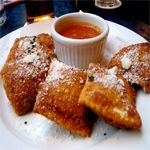 Ingredients:
Filling:

5 artichoke hearts
30g of pancetta
130g of Italian sausage
1 onion
Laurel
Sage
Thyme
3 anchovy fillets
120g of ricotta
Grated parmesan
2 egg yolks
Salt and pepper
Wine pairing suggestions
Preparation
Prepare the pasta by mixing flour with egg, wine, egg a pinch of salt and tepid water, into a workable ball of dough. Place in a bowl and refrigerate. Next fry the cubed pancetta in some butter with the diced onion, anchovy fillets and garlic clove. After a few minutes when the onions have softened add the chopped sausage, the herbs and the sliced artichoke hearts. At the end of the cooking process take out the laurel leaves and clove of garlic. Then add the ricotta, grated parmesan and two beaten egg yolks. Mix all the ingredients through thoroughly and you should end up with a nice manageable filling paste. Take your pasta dough out of the fridge and roll two thin sheets. On one sheet place equal portions of the filling and make sure they are evenly spaced. Then lay your second sheet of pasta on top and press the two pasta sheets together gently around each of the fillings. Then cut round the individual portions to create square raviolis. Then all you have to do, is drop them into a pan of salted boiling water and they will cook in 60 seconds. Drain them and serve with the sauce of your choice.
Add a comment
Be the first to review this product and you will receive a £10 voucher