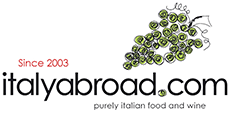 Spend £50.00 and get free delivery
£5.95 DELIVERY CHARGE
FREE DELIVERY FOR ORDERS ABOVE £50

Earn 6 reward points on this produce
Rosato Veneto IGT, Italyabroad.com (75cl)

Earn 6 reward points on this produce
Buy a case of 12 and save £7.55
(price per bottle £5.66 )
Why we love it
Let us introduce you to this fantastic rose wine from Veneto... With a nose of cherry and strawberry, this rose is the perfect wine if you want to relax... Light, crispy and refreshing with plenty of fruity flavours, it can be drunk on its own or to accompany light dishes.
The artisan who made it
At Italyabroad.com we like to think that we discover and then import Italian gems from small, little known, yet dedicated, Italian producers. We then make them available to all our customers and by tasting them, you will embark on a fantastical journey through the real flavours of Italy. We love travelling the length of Italy looking for unknown producers and wine and food and bring back with us.
Be the first to review this product and you will receive a £10 voucher