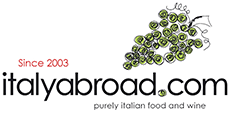 Spend £50.00 and get free delivery
£5.95 DELIVERY CHARGE
FREE DELIVERY FOR ORDERS ABOVE £50
Subscribe to our RSS feed

Parker and his ratings
I have just got an email from a producer I met a couple of weeks ago at the Vinitaly all excited about Parkers reviews of its wines. When I tasted its wines, I wasn't really impressed by them, nothing wrong with the wines themselves, but this producer was releasing its wines so late that this had implications both on the characteristics of the wines, aromas and flavours, and on the drinkability.

Due to the very late release, the time spent in the bottle would reduce its drinkability period and, when I tasted them, I found some lasting less than a year after their release, I was tasting a dead wine, if a wine can be dead. The wines had a vertical fall and had nothing left on them, in fact, the producer confirmed to me that they had to recall the remaining bottles. I then tasted the next vintage and, even though they had not been released yet, you could already see that the wine was ready, and Parker agrees with me on that because he says that they can be drunk starting from 2009 but I invite him to try the wines again in one year time and see whether they are gone or can last until 2012 as he says, because I am sure he has only tasted one vintage so it does not know how the wines evolve.

Another reason I was not impressed with the wines was because this way of making them, was yes, emphasising certain traits, but they were different from the ones I was expecting, I found them pretty Parker style I guess, I cannot think of a better word. The characteristics emphasised were the vegetal, mature, super ripe fruits as Parker calls them, jam, oak, and the wines were full, rich, too much, and you don't expect and want them this way. This is my opinion about these wines, I had already decided not to import them, and I am not changing my mind simply because Parker says that they are good but I am sure that there will be plenty of others doing that, I guess this is what set uu apart from the rest. Specialising in Italian wines I never had the chance to taste the same wines at the same time than Parker, but this episode tells me a lot about how wines are tasted and scored and no person should be allowed to determine the success of failure of a wine this way, this is not fair for the wine maker.
Add a comment
No comments yet, be the first to write one