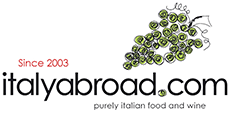 Spend £50.00 and get free delivery
£5.95 DELIVERY CHARGE
FREE DELIVERY FOR ORDERS ABOVE £50
Subscribe to our RSS feed

A room full of 90+ points wines
I was recently invited to a tasting, non Italian wines, and as soon as I entered the room, the first thing that struck me was that almost every winery had at least one bottle of wine on their table with a sticker on it saying that 90 points Parker or Wine Spectator or Wine Advocate with a very few exceptions, 3 or 4 out of 30, and the first information I would be given once sat at the table was the rating to a point that after a few wineries, I started the introduction, saying ?I can see that you have a wine rated 90+ but I am here to taste your wines?, if I had to take into consideration the rating, I would have done something else instead of going there.

I actually took the opportunity, I had never come across so many highly rated wines in one room, to do my ratings and then compare them with the expert?s and if I needed any more proof, many of these 90+ were not even 80 on my rating and some of my 80 were 90, one wine in particular was outstanding and was given about 85. Why? Was I supposed to feel down because I could not see all these 90+ wines? I wasn?t, actually I felt good because I was able to do my own scoring without being influenced by the ?experts?, so why these differences? Am I better than Parker and the other experts? Probably not. Were my ratings wrong? Probably not. I may have given 80 instead of 81 or 82, but still found a massive difference from the different 90.

I subsequently started to ask questions to the wine makers, from information about the vintages to when the wines had been tasted, I asked the original tasting results with the ?best drinking? period to find some sort of rational explanation, but I could not find any and I eventually gave up, the whole tasting had becoming something different.

All the wineries at the event were proudly displaying their 90+, the ones that did not have one were chasing it, sending samples and hoping for the miracle, and wine importer were buying based on experts? rating, because I guess, it is a lot easier to sell a wine that has a 90+ that one that hasn?t, isn?t that sad? Everyone was looking for the shortest route to market, wineries and merchant.

When I taste wines I dont look at ratings and scores, I taste the wine and if I think is good we import it, does not really matter if someone has given them a 90 or more, if we were to buy wines based on someone?s else rating, a part that there are so many experts and competitions that we should start ranking them, but we will end up all drinking and selling the same wine, wines that someone else says are good. I love discovering hidden gems and this is another reason why we are different.

Add a comment
No comments yet, be the first to write one